Chasing the Ghost arrived in Phnom Penh last night for a fortnight's stay to expand upon the project's Cambodia section. While here, I'm staying in a building whose history with art and artists goes back over three decades, known in English as The White Building. A brief explanation follows: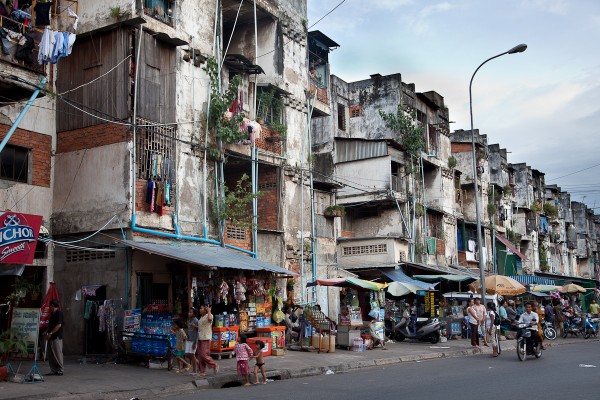 After the fall of the Khmer Rouge regime in 1979, the succeeding government was tasked, among many other things, with repopulating the capital (for those unfamiliar with the history of the Khmer Rouge, a brief precis can be found here; for the purposes of this story, you need only know that they entirely evacuated the country's urban centers for the duration of their time in power, sending the cities' residents to live and work in agricultural slave camps in the countryside). As one might imagine, this repopulation quickly grew into a logistical nightmare, with little legal documentation surviving the KR period. Squatting ran rampant as people flooding in from the countryside searched for anywhere to call a home. As part of an attempt to bring order to the situation, and in a stroke of keen foresight to help rehabilitate the devastated Cambodian art and culture scene (artists were among the intellectuals persecuted by the Khmer Rouge), the government designated a block of publicly owned apartments, formerly for civil servants, now known as The White Building, as artist flats; a place for dancers, painters, sculptors, writers, or other artists who made it through the KR period to live and work and create a community with one another.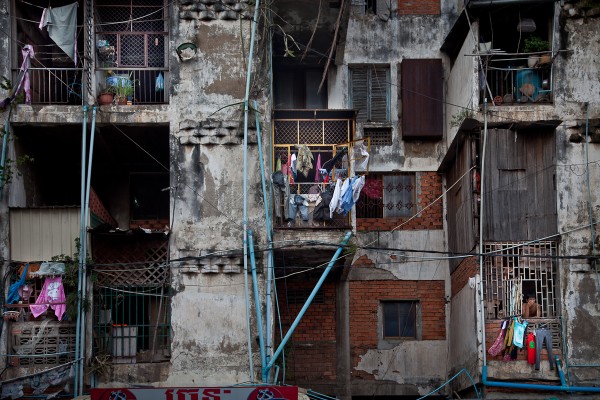 In the thirty or so years that have passed since then, Phnom Penh has changed drastically, and with it so has the character of the White Building. Artists originally living here have passed on their rooms to their children or sublet their spaces to live elsewhere. Meanwhile, without government upkeep the building has fallen into a state of disrepair deplorable anywhere, but shocking when juxtaposed with the new, high-end hotel and condo construction going on all around it as a result of Cambodia's Angkor Wat-fueled economic boom. In addition to it's egregious physical decline, I've been informed, anecdotally, that the walls of the White Building now house a large proportion of Phnom Penh's prostitution and drug dealing (update: internet research corroborates this reputation). Throughout all this, the building has maintained a community of its own; genocide survivors, families, social workers, and civil servants all call this place home. And recently, since the building's continued existence has come under threat from an avaricious and mercenary government (more on this later), a number of Cambodia's young generation of artists have begun renting spaces and building their studios here in an attempt to revitalize the building's artistic community.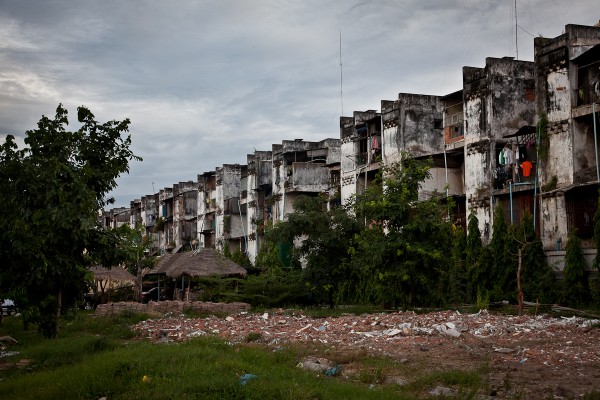 It is through fortuitous association with a few of the latter group of people that I find myself able to stay here. While visiting Phnom Penh in May, I was lucky enough to meet Lyno Vuth of Sa Sa Art Projects, a Cambodian photographer who works as a part of Stiev Selapak collective (represented here by Sa Sa Bassac Gallery). It was Lyno and the other members of his collective who first told me of The White Building and its history. They are among the cadre of young Khmer artists who have set up their working studios among the community here, and it is in this studio where, a few months later, I find myself fortunate enough to live for a few weeks.
While here, I'll be working on a couple projects – Chasing the Ghost of Karl Marx, of course, for which I'll be photographing Phnom Penh and its rapid urbanization. A large part of this means photographing the community of The White Building, which stands as a microcosm for the history and changes currently happening all around Cambodia. Additionally, time allowing, I hope to expand upon the yet-untitled white skin project posted on jasontoniowoerner.net last week by adding young Khmers to the project (Cambodia holds a special place in that piece, for reasons too long to elaborate on here). Follow me here for the next couple weeks on the Chasing the Ghost blog, I'll try to post a few photographs each night.
Thanks for reading.
JTW